Shoe Carnival, PetSmart and Marshalls Now Open at Pulaski Promenade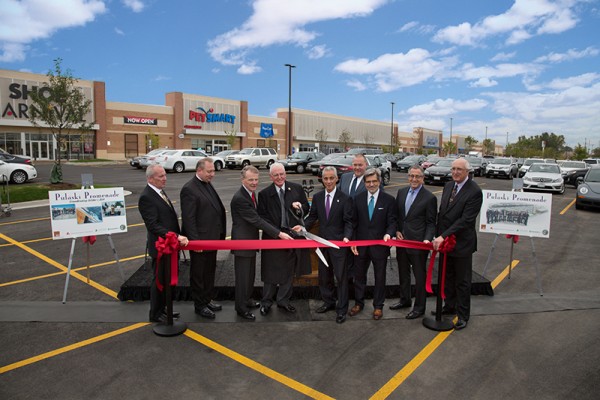 Chicago, IL (November 16, 2015) – Metro Commercial Real Estate is pleased to announce the opening of anchor tenants; Marshalls, PetSmart and Shoe Carnival at Pulaski Promenade in the Archer Heights neighborhood of Chicago. Remaining anchors, Michaels and Ross Dress for Less are set join with openings set for Spring of 2016.
The IBT Group, developers of the 10.5-acre parcel, held a ribbon cutting ceremony in early October of this year to celebrate the grand opening. Chicago Mayor Rahm Emanuel, Alderman Edward Burke (14th Ward) and many others joined The IBT Group and Inland Real Estate for the ceremony.
The 133,000 square foot shopping center is located prominently at the beginning of the thriving Pulaski Road retail corridor near newly constructed Target, Staples and Pete's Fresh Produce.
About Metro Commercial Real Estate
Metro Commercial Real Estate is a principal – based commercial real estate firm whose mission is to provide a high level of personal service combined with state-of-the-art technology to accommodate the complex need of its select group of retailers, developers, and retail property owners. As one of the industry's leaders in product leasing and tenant representation, Metro's seasoned corps of professionals have secured more than ten million square feet for regional and national retailers.
www.metrocre.com 
About The IBT Group LLC
The IBT Group LLC is a full-service real estate development firm based in Chicago, Illinois. The IBT Group specializes in the acquisition, construction, leasing, and management of high-quality projects that are responsive to the needs of their respective communities.   The IBT Group is a developer of commercial retail properties across the country. The company's focus is to maximize the value to tenants, owners and investors by providing high quality, well-located projects that create successful environments.
www.ibtgroupllc.com
About Inland Real Estate Corporation
Inland Real Estate Corporation is a self-advised and self-managed publicly traded real estate investment trust (REIT) focused on owning and operating open-air neighborhood, community, and power shopping centers located in well-established markets primarily in the Central and Southeastern United States. As of September 30, 2015, the Company owned interests in 135 fee simple investment properties, including 36 owned through its unconsolidated joint ventures, with aggregate leasable space of approximately 15 million square feet. Additional information on Inland Real Estate Corporation, including a copy of the Company's supplemental financial information for the three and nine months ended September 30, 2015, is available at
www.inlandrealestate.com
Press Contact
Erica Osiecki
Marketing Director
eosiecki@metrocre.com
847.412.9898 ext. 5004