Nathan Tonnies arranges Lease bringing Gyu-Kaku Japanese BBQ to Downtown Naperville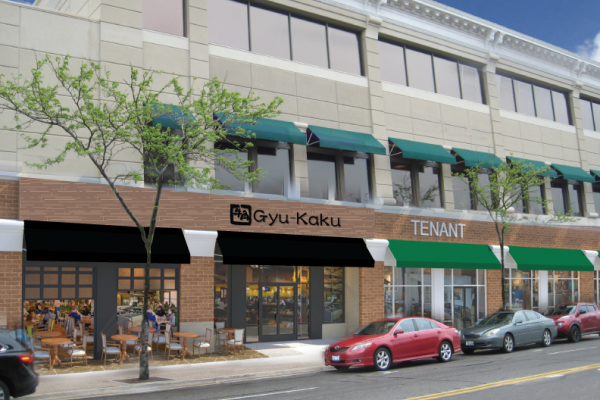 Naperville, IL (May 14, 2019) – Nathan Tonnies (Principal), of Metro Commercial Real Estate, recently represented the Landlord in the leasing of 4,567 Square Feet to Gyu-Kaku Japanese BBQ at Washington Corners; located at 47 E. Chicago Ave., Naperville, Illinois.
Gyu-Kaku joins Barnes & Noble and the newly opened Fat Rosie's Taco and Tequila Bar at the center.
This will be Gyu-Kaku Japanese BBQ's fourth (4th) location in the Chicagoland market and the 50th in the United States. Gyu-Kaku currently has over 700 restaurants worldwide.
About Metro Commercial Real Estate
Metro Commercial Real Estate is a principal – based commercial real estate firm whose mission is to provide a high level of personal service combined with state-of-the-art technology to accommodate the complex need of its select group of retailers, developers, and retail property owners. As one of the industry's leaders in product leasing and tenant representation, Metro's seasoned corps of professionals have secured more than ten million square feet for regional and national retailers.
www.metrocre.com
About Gyu-Kaku Japanese BBQ
Gyu-Kaku is a "yakiniku" restaurant that was originally developed by Rex Holdings Japan. Translated, "Gyu-Kaku" means "Horn of the Bull" in Japanese. As one of the largest restaurant operators in Japan, Rex Holdings Japan developed the Gyu-Kaku system of restaurant operating techniques and methods in the mid 1990s and expanded throughout Japan. Gyu-Kaku has since been advanced and modified for the U.S. market. Gyu-Kaku offers customers the opportunity to cook various cuts of beef, pork, poultry, seafood, vegetables and desserts on the specially designed in-table roasters that are designed to vent smoke through forced air openings built into the roaster. The internal vents are designed to reduce the amount of smoke and odor that may be emitted in the restaurant or transferred to customers' clothes. The menu also includes a variety of alcoholic (including "sake", or Japanese rice wine) and non-alcoholic drinks.
www.gyu-kaku.com
Press Contact
Erica Osiecki
Marketing Director
eosiecki@metrocre.com
847.412.9898 ext. 5004