Metro Brings Pie 5 & The Joint to Meacham Square in Schaumburg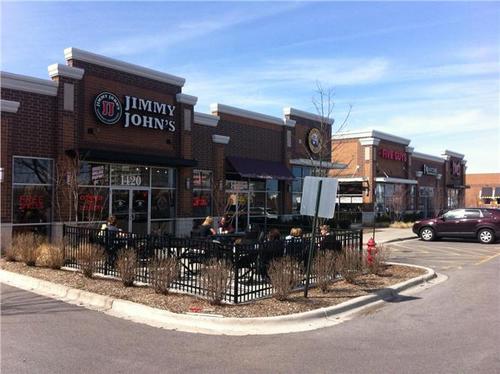 Schaumburg, IL (July 6, 2015) – Metro Commercial Real Estate (Nathan Tonnies) is pleased to announce that Meacham Square in Schaumburg is now fully leased with the signing of Pie Five Pizza Co. and The Joint. Pie Five (now open) and The Joint will be joining tenants Five Guys, Einstein Brothers Bagels, Jimmy John's, and Buffalo Wild Wings in the center.
Meacham Square is located within Schaumburg's centralized business district and a major retail corridor adjacent to Woodfield Mall and Illinois Interstate I-90. With excellent demographics, traffic counts and daytime employment statistics, Meacham Square is an ideal location for any retailer.
About Metro Commercial Real Estate
Metro Commercial Real Estate is a principal – based commercial real estate firm whose mission is to provide a high level of personal service combined with state-of-the-art technology to accommodate the complex need of its select group of retailers, developers, and retail property owners. As one of the industry's leaders in product leasing and tenant representation, Metro's seasoned corps of professionals have secured more than ten million square feet for regional and national retailers.
www.metrocre.com 
About Pie Five Pizza Co.
Dallas-based Pie Five Pizza Co. is a subsidiary of RAVE Restaurant Group, Inc. (NASDAQ: RAVE). RAVE owns, franchises and supplies more than 300 Pie Five and Pizza Inn restaurants operating domestically and internationally. Pie Five Pizza Co. is the leading brand in the rapidly growing fast-casual pizza space, offering individual handcrafted pizzas with fresh ingredients made to order in less than five minutes. Named among Fast Casual's Top "Movers & Shakers" for three consecutive years, 2015 "Best Franchise Deal" by QSR Magazine, 2012 Hot Concepts winner by Nation's Restaurant News and one of "10 Hot New Restaurant Chains from Established Brands" by Forbes.com, the company currently has 92 locations in 24 states and the District of Columbia.
www.PieFivePizza.com
About The Joint Corp.
Based in Scottsdale, Arizona, The Joint is reinventing chiropractic by making quality care convenient and affordable for patients seeking pain relief and ongoing wellness. A no-appointment policy, extended hours and convenient locations make care more accessible, and affordable membership plans and packages eliminate the need for insurance. With 340+ clinics nationwide and more than three million patient visits annually, The Joint is an emerging growth company and key leader in the chiropractic profession.
www.thejoint.com
Press Contact
Erica Osiecki
Marketing Director
eosiecki@metrocre.com
847.412.9898 ext. 5004